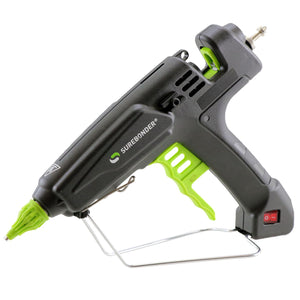 PRO8000A 180 Watt Quick Heating Professional Heavy Duty Hot Glue Gun
Regular price
$78.99
Sale price
$80.49
This Surebonder PRO8000A with its unique design includes dual 180 watt heaters allowing a quick warm up time of only two minutes. You'll enjoy the ergonomic designed trigger which allows less effort by the user while operating the gun. The stroke adjustment screw dispenses equal amounts of glue on every trigger pull and the higher wattage a gun has the more output of glue per minute. The gun also features a protective heat resistant nozzle cover, an integrated gun balancer mount hole, a lighted on/off switch, and an extended metal stand for added stability. Uses Standard 1/2", 7/16", .43" & .45" Diameter, 4", 10" & 15" length, high or dual temperature glue stick.
Product Features
180 Watt Hot Glue Gun
On and off switch
Approximate pounds of glue per hour:
180 Watts = 5 lbs. per hour
*Specialty nozzles available - See the Standard Set of Nozzles
**Keep the gun in an upright position using the stand(s) that are attached or come with the gun.
 Read/Download the Manual - 180 Watts
---
Share this Product