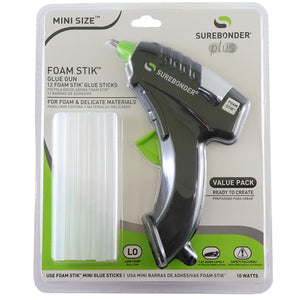 FM-12FKIT 10 Watt Mini Size Low Temperature Hot Glue Gun with 12 Sticks Included
Regular price
$39.94
Sale price
$44.94
Great glue gun for floral, craft, art & school projects. These made in the USA glue sticks are formulated to be used on foam, and other delicate materials, due to its low temperature characteristics. The glue dries in seconds! 
The Foam Safe Mini Glue Sticks are perfect for bonding delicate materials. Glue dries in seconds. Use with lace, foil, ribbon, foam, lightweight fabrics, and more.
The kit includes a mini Foam Stick Glue Gun and 12 Foam Stick Glue Sticks.
*Kits are sold in packs of six.
---
Share this Product